Her Alaskan Valentine's Day Matchmaker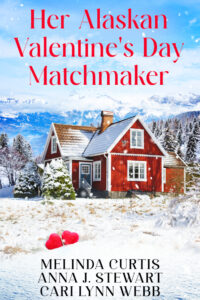 This trio of jaded, bearded bachelors in Alaska just made a bet that they could become matchmakers!
Coop, Gideon, and Ty are bar stool quarterbacks when it comes to love…or should we say scorekeepers on the ice hockey rink of love? A rink they don't skate on. In a small town they take for granted.
And now they need to put up or shut up.
There's no harm in placing a bet with a hockey team owner – make 6 love matches in the small town of Kenkamken Bay, Alaska, by Valentine's Day to earn jobs in his hockey organization in the Lower 48. A bet that could finally get these bearded, hockey-loving bachelors a chance at the good life. If they don't foul it up.
Love isn't always where you expect to find it.
Fans of movies featuring amateur or budding matchmakers, like Emma, A Perfect Match, or Matchmaking Mysteries, will love this fun, first installment of the Alaskan Matchmaker series, featuring bearded, hockey-loving heroes and guaranteed happily-ever-afters.